Last Update Date:2022/11/21
Supported App Versions:4.11 and above
* The image on the page may differ from the actual app screen.
Log Display Screen
Return to the log list screen
Logging screen will open. (You can add to and trace the log you are viewing.)
Logs can be shared via SNS and GPX output
Detailed log information will open
Open the log altitude graph
Map type change
Change the line type (the color can be changed according to the speed)
Waypoint Display
If the log is long, it will take a long time to load.
By tapping the "+" button, you can add to the current log or create a new log while viewing the current log.
When you tap the button (3), a dialogue to select an action will appear.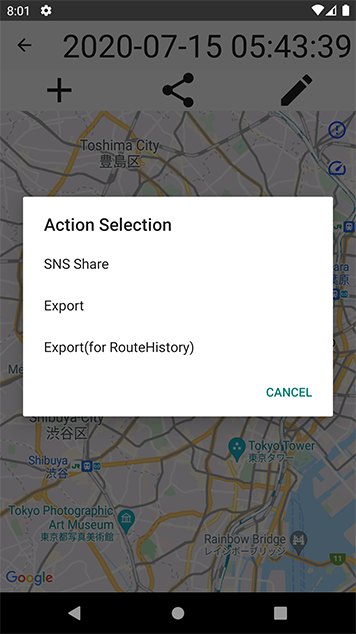 You can share text and images to Twitter and other sites using the "Share SNS" function.
You can use "Export" or "Export (for RouteHistory)" to export files.
The Export (for RouteHistory) outputs the title, notes and group information of the log.
Therefore, if you want to load a file into another terminal's RouteHistory or use it for backup purposes, please use the "Export (for RouteHistory)".
You can use Export if you want to use it with Google Earth or other apps.
After selecting "Export" or "Export (for root history)", the file format selection dialog will appear as shown in the image below, and the file will be output in the selected format.
The contents of the file are the same for both GPX and XML.
Tap the (7) button to change the line type to a color based on the speed.
The line will be displayed in red to green based on the maximum speed of the log being displayed.
Tap the button (8) to display the waypoints set in the log.
You can also add a waypoint at any location by long tapping on the map while a waypoint is displayed.
For details on editing waypoints, please refer to "Logging Screen -> Waypoints".
Log Details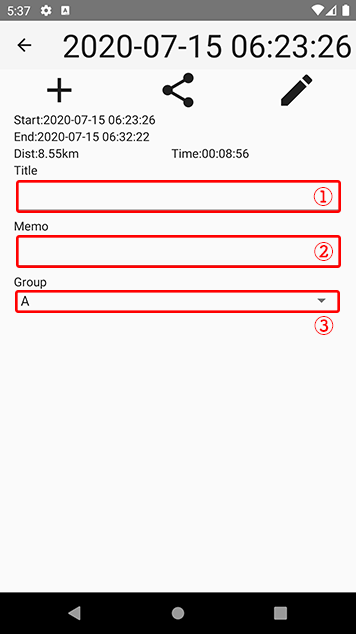 Log title entry field
Memo entry field
Group entry field
If you enter a name in the title field, the title of the log changes to the value you entered.
By leaving the title field blank, it becomes the original "log of the start time of recording".
Groups can manage logs alphabetically from A to Z.
The default group is "A".
Altitude graph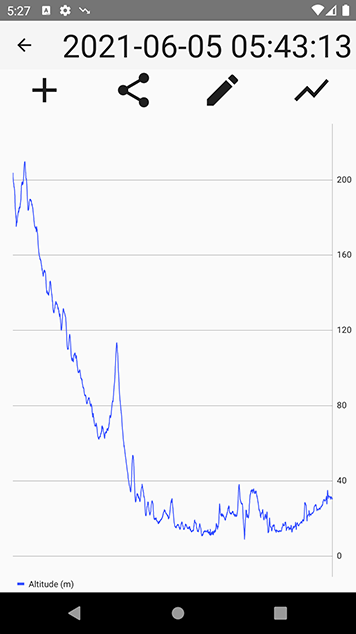 Tap the button (5) to display the altitude of the recorded log in a graph.
Since the data acquired by GPS is displayed, the error may be large depending on the usage conditions.
GPX File Output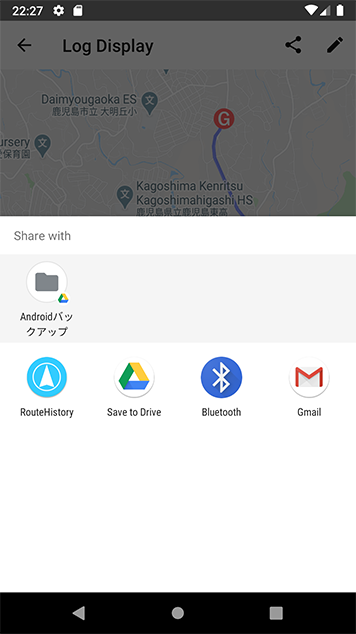 Tap the button (3) and select "Export" or "Export (for RouteHistory)", then the above screen will be displayed.
Selecting the output destination from the list outputs the file in the specified manner.
The output file is named "Log Logging start date and time.gpx".